This evening a handful of people decided at short notice to do a demo at the Olympic Torch relay... and one of us ended up occupying a traffic light post right in the middle of the route. The lesson: it's possible to do much more than you might think!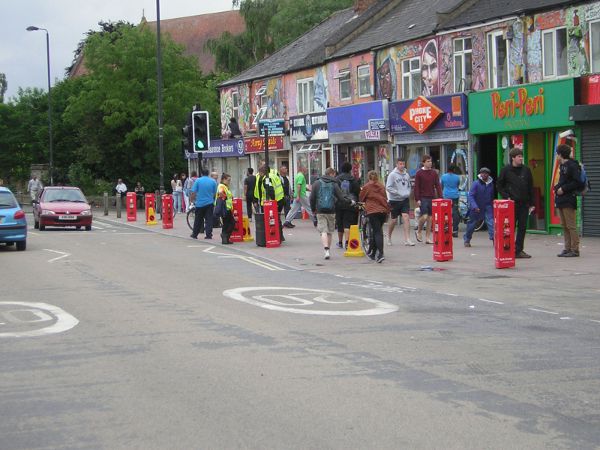 On the way there, Cowley Rd temporarily taken over by Coke signs...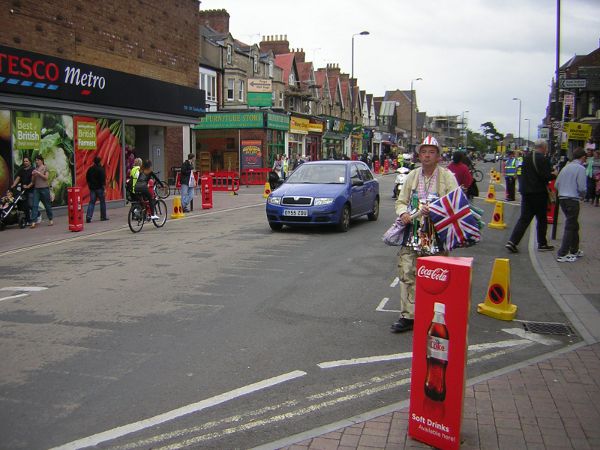 ..and Union Jacks.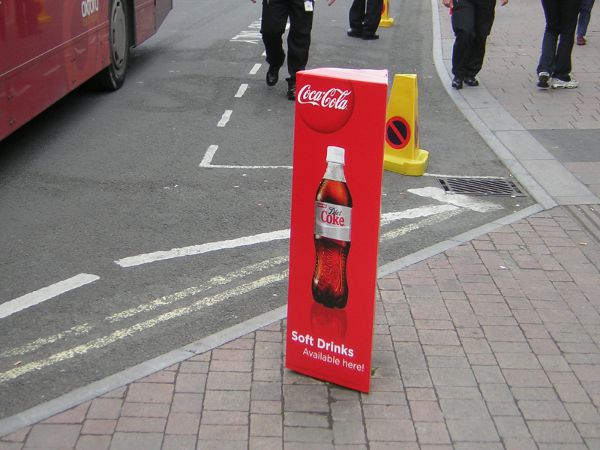 One of those Coke signs up close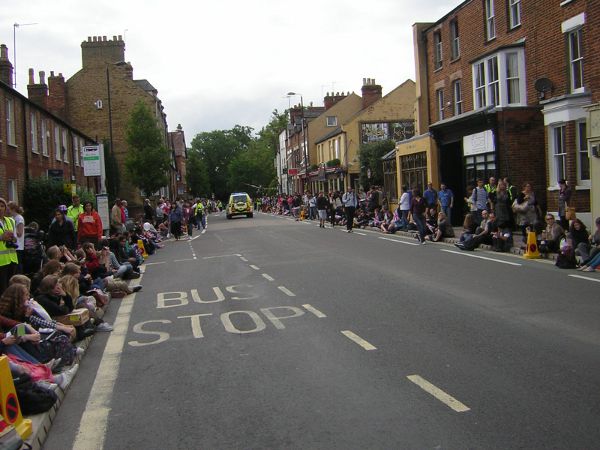 Meanwhile crowds everywhere, and police too...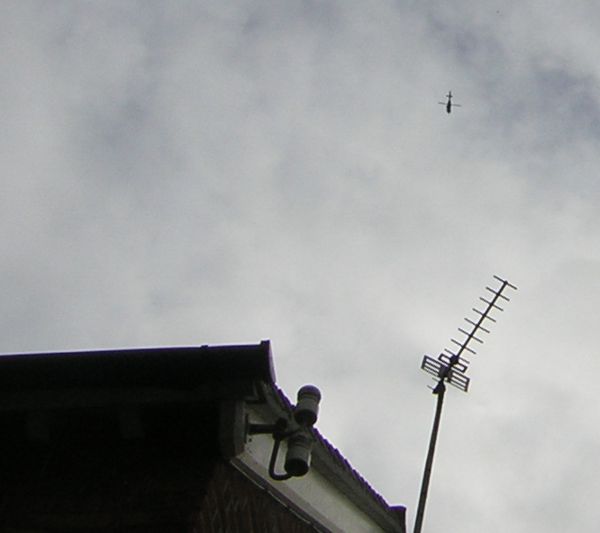 ...of course they couldn't resist getting the helicopter out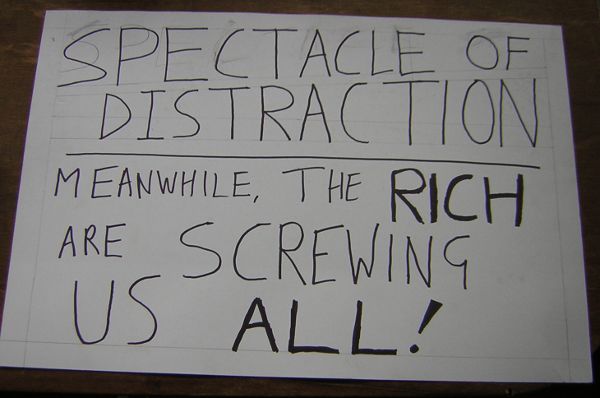 last-minute placard making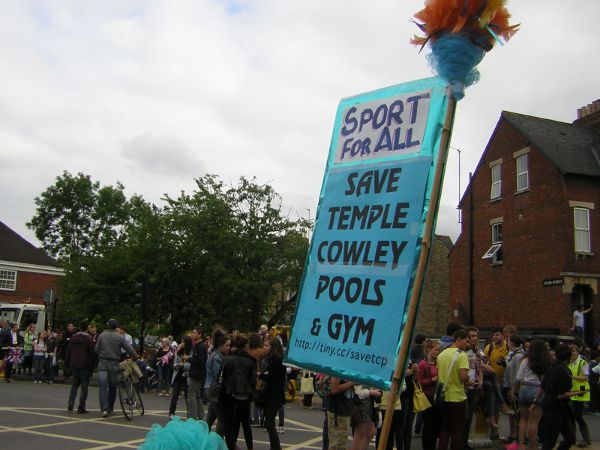 the TCP folks already in action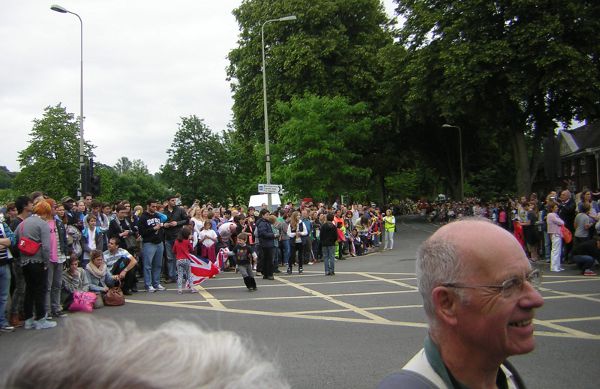 massive crowds waiting at St Clements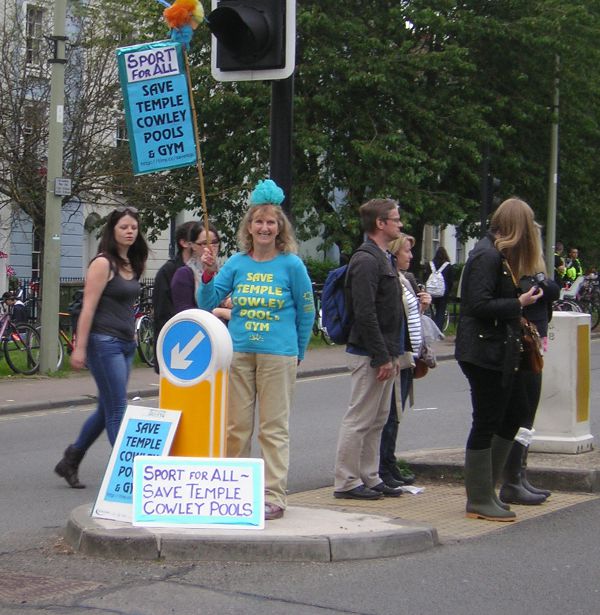 one of the Save TCPers stayed under the traffic light for quite a while after
Some folks from the Save Temple Cowley Pools campaign had the guts and initiative to call a last-minute demo, in spite of the level of media hype (giving the impression that large crowds of people will be angry at anyone protesting) and huge security mobilisation (implying that anyone dissenting will be immediately jumped on by cops!). Neither of these scare-myths proved to be true today.
I wanted to highlight wider issues as well as the TCP campaign, but they were fine with that, and so I found myself, somewhat nervously, with them among the crowd on St Clements, with a hastily-made sign saying:
"Spectacle of Distraction - Meanwhile the rich are screwing us all!"
After realising the cops were mostly ignoring us, and we weren't getting that much attention from the rest of the crowd either, I started eyeing up the traffic light pole in the middle of the road in front of us. Hmm. It would mean getting nicked, presumably, but much more effective than staying on the pavement.. Only 10 minutes until the torch is due.. Hmm.
So I went for it. It wasn't too tall; easy to climb but just tall enough to deter the cops from pulling me down immediately. Suddenly there were a ridiculous number of cameraphones pointed at me, people waving and smiling. After some banter from some local kids and a forlorn cop briefly trying to persuade me to come down for my own safety, I settled into taking turns pointing the sign in different directions to show it to different parts of the crowd (and trying to find a more comfortable sitting position!).
It was heartening to see so many people giving thumbs up and saying well done. It's too easy to assume that because people have come out to have a gander at the relay, are waving Union Jacks etc, they must be mindless drones brainwashed into inane acceptance of the status quo. But time after time, I've found that when you engage with people on the street about radical politics, starting from the assumption that they are intelligent and like-minded, you get proved right. And this was no exception.
Finally the relay arrived. I wasn't sure how to react to the corporate cheerleading buses as they trundled past with their colour co-ordinated, branded, crews pumping cheesy dance music and vacuously yelling "wooo! hello oxford!". It would have been nice to announce less well known facts about the crimes of each corporation as they passed, but it would be impossible to be heard over their sound systems. So I just put on an unimpressed face and waited for them to pass. None of the corporate cheerleaders was able to make eye contact with me, despite being at about the same height as me on the top deck of the buses.
And then the torch. After all the buildup it wasn't much. One of the Met Police security team stationed himself at the bottom of my post, and there was a brief opportunity to flash the placard at the camera van. Then gone.
Afterwards even bigger crowds arrived following the torch, so I stayed put awhile. More cameraphones and thumbs up. The Save TCP folks were able to come over to the middle of the road where I was, and make use of the attention too.
OK. Time to come down. Here goes with the unpleasant bit - best to do it while there's still a few people around as witnesses in case the cops are rough.
And... nothing. What a pleasant surprise. They didn't even hassle me for my details. Great. Time to leave before they change their minds!
The local media, of course, seem to have ignored the incident altogether. Despite both Oxford BBC and Oxford Mail having live timeline coverage, neither mentions the point around 1840 when the relay passed our protest. Despite me being perched slapbang in the middle of the route, in such a way that they couldn't have missed (and which the crowds nearby were very aware of), they didn't even include a one-line mention.
This does seem to corroborate reports that the media have a blackout in place on anything negative about the Olympics. The exception seems to be videos of people being dealt with violently by the torch security team - arguably this is covered simply to intimidate others away from protesting, and of course nothing is ever said about any political message the victim might have been trying to convey.
But hopefully one of those who took a photo will upload it to twitter or somesuch place. If they do I'll copy it here. All the photos I took are from before and just after the climbing bit; as I had the camera with me we don't have any of the brief lamp-post occupation.
So, to summarise, for anyone thinking of causing trouble at the torch relay:
1. Don't assume the crowds will be against you - you may find they agree wholeheartedly with your message.
2. Don't assume security will make any effective protest impossible! Again you could be pleasantly surprised.
3. Don't expect much coverage from the mainstream media. If it happens, it's a bonus, but it's more likely they'll ignore you.
Have fun!