Several empty buildings in Oxford have recently been opened as squatted social centres. In August an empty industrial workshop on Randolph Street was squatted. After several "Free Uni" events (sharing skills and ideas), community meals, film and info-nights the court process provided only a short delay and then eviction. The building now remains unused.
Undeterred, the social centre, known as "Plebs' College" due to the focus on free education, has re-opened on Union Street, with a multitude of weekly events. Again they are under threat of eviction from a landlord keen to demolish the place and build student flats. This space where people can gather, meet, organise and learn, as equals, free of the usual commercial or bureaucratic pressures, may be a glimpse of another society.
Meanwhile, the public occupations spreading in many countries are starting to challenge the economic system and may also evoke a freer and more equal society (though with much work still to do!).
For hints of a more brutal future, we can look at the recent eviction of Dale Farm: an entire community made homeless, while those who resist are kicked, tasered, batoned, pressured-pointed, or beaten, and the media continue their lies.
Which path we take could depend on the actions we all take in the next few years.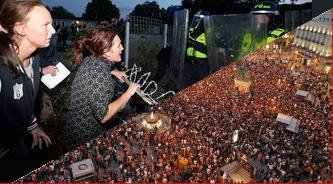 Two possible futures?