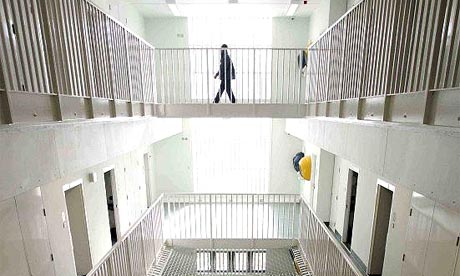 Colnbrook IRC
Bar the reported suicide in Campsfield, as usual the cases are reported in the same way they always are; very little explanation as to the cause of death (which remains unchanged with time in the hope that people will forget), and a cold and perfunctory statement from UKBA.
Last month, Muhammad Shuket was reported dead in Colnbrook IRC. There has been no further news. Another man died there at the weekend. There have been no details of the man's name, nationality or circumstances of his death. And yesterday, an Indian man awaiting deportation hung himself in Camspfield.
UK detention centres, expanding in capacity with the opening of converted prison Morton Hall earlier in thee summer, are enclosures where thousands of people are held
indefinitely. There is no formal limit on the time detainees can be held, and it is not at all unsusual to remain inside for a couple of years. During this time people have nothing to do but wait, and reflect on the long, traumatic and extremely expensive journeys they have taken to reach here; the horrors many have fled in their countries; the frustration of not being able to fight their case (with legal aid cuts, the two biggest legal charities, RMJ and IAS went into adminstration, making it now almost impossible to get representation); and the terrible prospect of forcible return.
Claiming asylum is an endless and anxious wait while lives are dictated by bureaucrats at the UKBA and by Home Office targets. Going to ground means precarity; constantly evading the police; and housing problems.
Not including the latest three individuals to have lost their lives, and recent deaths in other EU countries, since 1993 there have been 15,551 documented deaths across Fortress Europe:

http://www.unitedagainstracism.org/pdfs/listofdeaths.pdf
The UN estimates one in ten migrants who make the sketchy crossing from North Africa to Europe will not make it.
Yet the deaths brought about by the border regime are the tip of the iceberg in terms of the damage caused by immigration control.
All over Europe, silently, people are suffering the injustice and indignity of a clandestine existence in transit or in realisation that declaring yourself to the authorities puts you in no better position; of low-paid illegal work; of being shunted around from State to State under the the Dublin Regulation; of having to burn your fingertips to avoid detection; of being hounded and chased, arrested and beaten at border crossings; of the psychological exhaustion of evading the authorities.
Many migrants in detention suffer mental health issues such as depression or PTSD. It is this psychological war on poor foreigners that is really destroying lives; self-harm and deaths are the extreme manifestation of it.

http://www.youtube.com/watch?feature=player_embedded&v=JePKy9kwn7c