Every month a small group of campaigners gathers outside "Campsfield House", near Oxford. Inside, behind layers of tall, razor-wire fences, are 200 people imprisoned indefinitely for the "crime" of being poor, non-white, and foreign.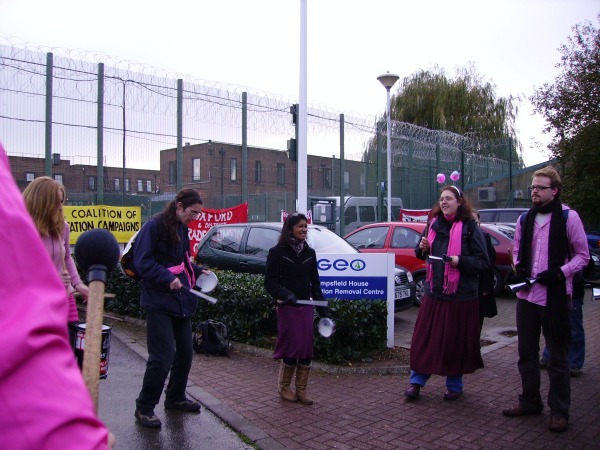 quite an old photo but it shows campsfield and BoP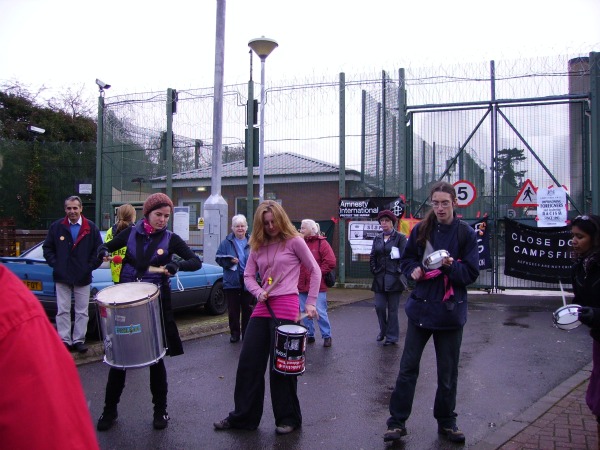 quite an old photo but it shows campsfield and BoP
A good short article with more background about Campsfield is here:

http://oxford.indymedia.org.uk/2010/11/468230.html
We arrive and join the others. My friend asks me if we're early, and I have to explain that this may actually be everyone; Campsfield demos can be quite small. You could see this as an indictment of the priorities of local activists, but then, when I think about how these demos leave me feeling, I'm not sure I blame them.
This time we've managed to get together enough folks from Breach of the Peace (a local radical samba band) to play, something we don't manage every month. We bash out a few basic rhythms and teach people the chants that go with them: "Close-Camps-field!", "Free-dom-Now!" and "Let-Them-Go!".
Then there's some talking: not grandiose speechifying but various folks sharing news and announcements with the group.
We discuss...
-the low rates on which inmates are employed (£5 a day):

http://www.guardian.co.uk/uk/2011/jan/02/yarls-wood-detainees-paid-50p-hour
-the recent report released by the Bail Observation Project, documenting the injustices of the bail process:

http://closecampsfield.wordpress.com/old-campaign-articles/immigration-bail-hearings-a-travesty-of-justice/
-the change of management of Campsfield (a different company is taking over):

http://oxford.indymedia.org.uk/en/regions/oxford/2011/02/474040.html
-the recent hunger strike by Iranian activists in London:

http://london.indymedia.org/articles/8976
Then through some fields to the places in the perimeter where we know the detainees can see or hear us. Unusually, the police don't even follow us. We reach a place where the authorities have built many layers of fencing, preventing face to face contact. But it's still the best place to hear and be heard. A quick bash on the drums again (with chanting) to signal our presence, then we listen for responses...
Some cheers and shouts, mostly indistinct. One guy shouts "help me, help me". Several times we hear "freedom!", echoing our chants.
An orange comes sailing over the top, a bright flash of hope and life over this wall of dark green death. We write "Freedom" on it, along with the phone number of a local asylum support organisation which can organise visitors for people. Then we throw it back over. Did it reach them? We still don't know.
A couple of us go on the megaphone, try to explain in our various ways why we are there. It's hard. I want to offer some strength, some hope to those listening on the other side. But I also have to be honest; right now this campaign isn't on the verge of winning. The words seem tokenistic; to announce "WE WANT YOU TO BE FREE" without being able to back that up with action, without the tools or the numbers or the militancy to rip down those fences; suddenly in that situation it just doesn't feel like enough.
But something is better than nothing, and we seem to have smuggled some meaning across the language barrier, like that orange over the razor wire, because we can make out "thank you" amidst some of the shouts floating through.
We do a bit more drumming, some singing ("Freedom is Coming") a little more shouting back and forth, and then it's time to go. If we don't leave before 2pm the prison authorities will prevent the visitors who are about to arrive from getting in. Just one more vindictive method of control in their toolkit.
As we walk back I feel the same as always: glad to have made contact yet ashamed not to have been able to offer more. Depressed by the solidity of those fences. And lucky to be able to walk away.
---------------------------
Demos are on the last Saturday of the month, 12pm-2pm...
Transport details:

http://noborders.theoarc.org.uk/campsfield_transport.php
Get involved with the samba band:

http://www.cardinalfang.net/samba/
Campaign to Close Campsfield:

http://closecampsfield.wordpress.com/
Oxford No Borders:

http://noborders.theoarc.org.uk/
---------------------------