The Power of Community: How Cuba Survived Peak Oil
In the current global credit crisis Cuba is an inspiration ...

Flyer - application/pdf 104K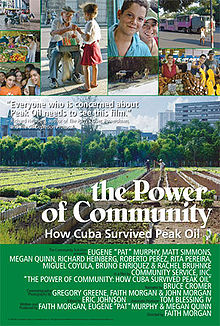 Cover picture
The US enforced blockade has forced it to exist without access to credit for over 50 years. Then in the 1990's imports of oil and food were drastically cut.
That Cuba faced and overcame these dual crises shows a possibility for the rest of the world, particularly with the current economic crisis paralysing markets worldwide.
This film tells of the hardships and struggles as well as the community and creativity of the Cuban people as they transitioned to organic farming, urban gardens and a sustainable economy.
The film, organised by the Oxford Cuba Solidarity Campaign, will be followed by a discussion.
St Aldates Room, Oxford Town Hall
Thursday 23 September at 7.30pm
All welcome ~ Free admission
Flyer for the film attached - please distribute :-)
More about the film ...
On IMDB:

http://www.imdb.com/title/tt0814275/
On Wikipedia:

https://secure.wikimedia.org/wikipedia/en/wiki/The_Power_of_Community:_How_Cuba_Survived_Peak_Oil