The battle to stop the building of the Oxford animal labs continues. Now more than ever it's vitally important that the pressure is increased. A crucial element of the campaign will be to get people out onto the streets of Oxford in order to inform the public of the terrible crimes taking place against sentient creatures inside Oxford University.
Your help is vital if we are to stop this torture centre from becoming a reality. Please support as many of these protests as possible.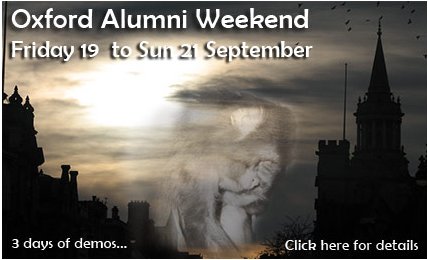 www.speakcampaigns.org/diary.php#alumni


www.speakcampaigns.org/diary.php#degreedays
One way individuals and groups can be more effective is to have your own protest materials with you when arrive. You can order SPEAK leaflets, posters etc, and make your own placards and banners. You can also download a MAP from this site, or we can send you a map if we know you're planning to hold your own demo or attend a planned demo. In the face of Government repression and a misuse of the legal system by Oxford University, your initiative and creativity is vital in order for us to be flexible and make it more difficult for the authorities to suppress our right to protest.
------------------------------------
Oxford Alumni Weekend
Friday 19 to Sun 21 September
3 days of demos, meeting points and times to be announced
For more details please contact us:
Tel: 0845 330 7985 Mob: 07906 497317
Oxford Alumni are those who were once students at the university. The Alumni weekend is a series of events (talks, lectures, walks, tours and many more activities) open to all those who are Oxford University alumni and is basically a chance for members to amuse themselves, rub shoulders with each other and try to make useful contacts. The university gets a lot of donations from the alumni and therefore likes to entertain them in the hope of getting cash. Keep your diary free and join us in letting those attending the weekends events learn exactly what Oxford University does with it's money - spends it on constructing and running an animal torture lab.
------------------------------------
Degree Days Demos
Friday 26 September and Saturday 27 September
Meet from 10.30
The Exam School
The High Street (at the corner of Merton St)
Oxford City Centre
MAP

http://www.streetmap.co.uk/streetmap.dll?G2M?X=451679&Y=206199&A=Y&Z=1
For more details please contact us:
Tel: 0845 330 7985 Mob: 07906 497317
Whilst for some people the degree ceremonies are about celebrating their academic achievements, for the animals imprisoned inside Oxford Universiy's labs it is just another day of abuse and fear, waiting to die in painful and pointless experiments. Join us in our protests as unless people stand up and take action then the suffering of these animals will continue.
------------------------------------
Weekly Thursday Demos
Don't forget that every Thursday there is a demo opposite the site on South Parks Road, 1pm to 5pm. There will be other protests close to the site and other places around Oxford on most days, so keep in touch. For more details on demos please contact us:
Tel: 0845 330 7985 Mob: 07906 497317