"
They left the land to rot, covered in trash and needles. They hope the buildings will fall down, so they can justify flogging to the highest bidder [...] Reading Borough Council call it development, regeneration. We call it gentrification, exclusion
."
In Reading, a group of local activists and residents have
reclaimed a plot of land left empty
by the local council, transforming it into an
attractive community garden
. After months of hard work, they went public with banners and door-to-door flyering, advertising the opening day and encouraging the neighbours to see the garden as common land for all to enjoy. The councils response?
Injunctions and threats of eviction
. Undeterred, the group pushed ahead with the opening day, which was
a great success
.
A few
legal hearings
later, the council have their eviction orders, and are expected to try and evict the garden and adjacent squatted building on
Wednesday 20th June
.
Help is needed to resist the eviction
-
meet 9:30am at the garden
.
Meanwhile, in Oxford, locals have turned an area of derelict garages into a
similar community space
- in this case, with the permission and help of the local council (undoubtably because access issues make the site unsuitable for developers).
They held their official opening on Saturday 16th, also a
varied and wonderful community event
. In a sickening counterpart to events in Reading, council bureaucrats and the local Blairite MP used the project as cover to prop up their own crumbling reputations, to the
discomfort of many of those present
.
[
Reading
:
eviction callout
|
eviction hearing
|
detailed report
|
injunction hearing + demo
|
opening day report + pics
|
opening announcement
|
local mainstream coverage
]
[
Oxford
:
opening day pics
|
opening announcement
]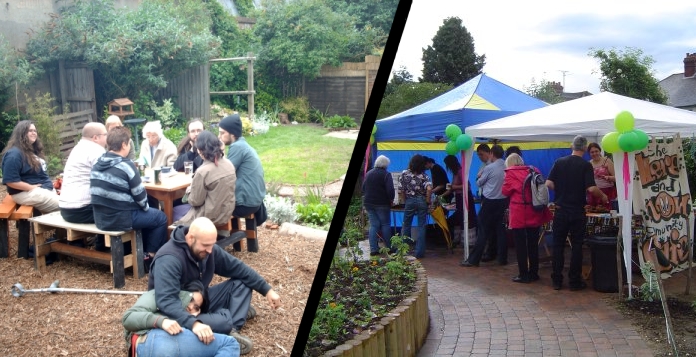 Common Ground / Barracks Lane gardens