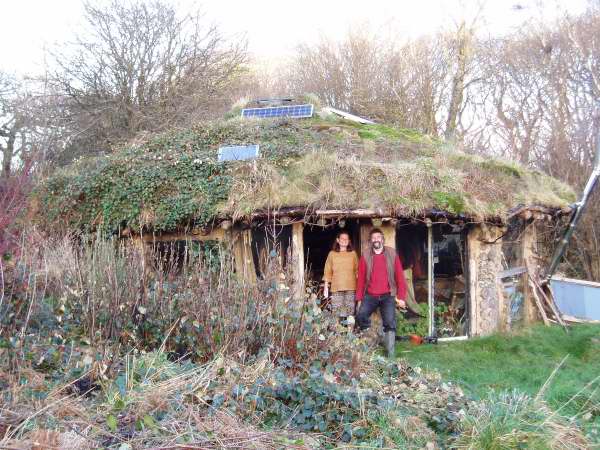 Roundhouse, Wales
British Film Makers Release EcoVillage Film
22nd of April- Award winning media charity, undercurrents will premiere their latest film to celebrate International Earth Day. The UK based film makers have spent two years exploring environmentally friendly communities all over the world.
ECOVILLAGE PIONEERS highlights how people have come together to build their own homes, grow their own food, and create lively and sustainable communities. The film meets communities in Australia, Spain, Ireland, England and Scotland. But much of the focus of the film rests on the development of the first EcoVillage settlement in Wales. Entitled Lammas, the key people involved are from Wales, UK.
ECOVILLAGE PIONEERS is narrated and directed by Helen Iles from Undercurrents, as she and her young son go on a journey to find a sustainable community to live in before finally settling on the Gower Peninsula, Wales.
Helen described the Lammas EcoVillage project,
' Their planned homes in Pembrokeshire are designed to add biodiversity to the land rather than taking it away. So rather than concrete and tarmac, the 30 families aim to build their homes from materials gathered from the very land upon which they will live on. Using new and old techniques such as mud and straw bales for walls, wool for insulation and wood for structure, the homes will be unique but most of all, low impact. Energy will be supplied via solar panels or wind power. My film hopes to inspire others to find a more enjoyable lifestyle'.
Her journey took her to Crystal Waters Permaculture village in Australia, Sunseed Technology centre in Spain, Findhorn spiritual community in Scotland, and the low impact settlement, Tinkers Bubble in Somerset England. Her trip also includes the world renowned Centre of Alternative Technology in mid Wales.
The world premiere of ECOVILLAGE PIONEERS will be held on
22nd of April in Cloughjordan, Co.Tipperary, Ireland. This is the site of Irelands first official EcoVillage.
END
Notes to Editors
Details and trailers of the film can be viewed on

http://www.undercurrents.org/lowimpact
Interviews or more details please call Paul 01792 455900 or 07973 298359