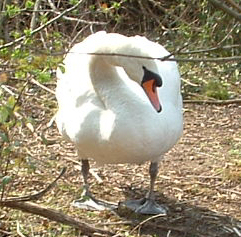 The Radley Swan
But like a python about to snatch its lunch, the hiss of his tongue alerted his prey to his malicious intentions. The assembled company heard his insult, saw his intentions and cried out as one "rubbish!", "offensive!" and "outrageous!" Mynors, npower's lawyer, responded with a thin leery smile.
...
The inquiry is being run by Inspector Vivian Chapman, a thin tall stork of a man. Any moment you expect him to stand motionless on one leg, his keen legal eye searching for something fishy. Dealing with holes is a bit part of his job and you would never suspect that he lists walking as his main hobby; surely he should be a fisherman? And this man has real power. He has the only hole puncher at the inquiry. It is displayed on his desk as proudly as any sceptre.
PS: The picture shows me near my new nest. The old one was destroyed by npower a few weeks ago.