Early in the morning of 14 March, an Algerian detainee held in Campsfield immigration prison in Oxfordshire forcefully resisted an attempted 'removal' by the immigration authorities. Fellow detainees then tried to intervene in solidarity and a riot soon spread in the detention centre, with facilities smashed and set on fire. 2 detainees and 7 staff were taken into hospital, all suffering smoke inhalation [see reports and updates]. In addition to emergency services, Tornado units (riot squads) from the Prison Service were deployed to deal with the 'disturbances'. According to a written ministerial statement by Immigration minister Liam Byrne, 60 of the detainees at Campsfield House have been transferred to other parts of the Home Office detention estate, but other detainees have remained at the centre, which holds up to 200 detainees and was operating at near full capacity at the time of the riot.
Links: Campaign to Close Campsfield | National Coalition of Anti-Deportation Campaigns | UK NoBorders groups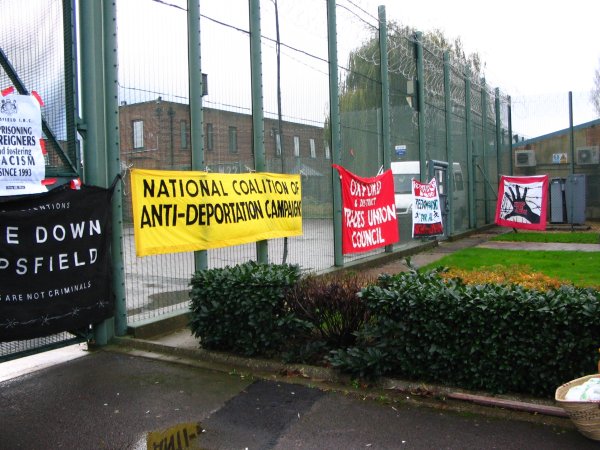 banners on the razorwire fence
Self-organised resistance and spontaneous riots in detention centres are nothing new. Last September, 66 detainees in Campsfield, mainly Turkish and Kurdish, went on hunger strike, protesting against the lack of information on how long their cases would take to be processed. In June 2006, over 120 people detained in Campsfield went on hunger strike in protest at their indefinite detention without trial and the conditions they face. In June 2005, all Zimbabweans detained in Campsfield went on hunger strike in solidarity with similar actions at other detention centres around the country against the forced deportation of Zimbabweans, the living conditions of all detainees and the abuses against them. Other recent actions in detention include the Harmondsworth riot in November 2006 and the Colnbrook hungerstrike in April that year.
Regular demonstrations and protests are also held outside Campsfield, mainly organised by the Campaign to Close Campsfield, which was set up in 1993, when Campsfield House was first opened [history].
The so-called Campsfield Immigration Removal Centre, near Kidlington, is surrounded by 20ft fences, with razor wire on top. Refugees and migrants who are not convicted of any crime or even charged with one are locked up there, without time limit and with minimal chances of bail. The prison is run by Group 4.
Only a few days ago, Campsfield House, along with two other detention centres (Haslar in Hampshire and Lindholme in South Yorkshire) came under fire, once again, by Chief Inspector of Prisons Anne Owers for not making detainees feel safe. [see Inspector of Prisons reports]
In 2002, the then Home Secretary David Blunkett announced that Campsfield was "outdated" and would be closed. The only possible explanation was the level of protests, inside and outside Campsfield. But instead, the Home Office sent the Cherwell District Council a planning application to expand it from 180 to nearly 300 places!