Today, four people from Oxford Student Action for Refugees (STAR) group and a random singer (me!) went to facilitate a singing workshop at Campsfield House Detention Centre.
Here's a personal account of the session.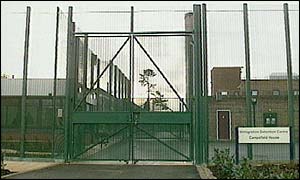 Campsfield House: grim outside and grim within
Campsfield House, managed by American corporation GEO, is 'home' to 200 men from all over the world from Afghanistan to Cameroon; Iran to Syria; Latvia to Canada...
When we arrived at Campsfield, there was a bit of an issue with rooms - we couldn't use the common room (probably because of the recent riot at Harmondsworth - where a few of the detainees from there have been relocated to Campsfield). So we were directed to a small classroom in a hut that's opposite a yard.
This yard (for those who haven't been: image it being like a medium sized concrete school playground) looks as if it doubles as a sports area (there's a basket ball hoop and a table tennis table), but realistically looks as if it's the main smoking point!
To start off the singing session we did a few stretches and breathing exercises - followed by a singing name game. We sang call and response songs (especially Omali - a tune that once heard will stick in your head forever!). And many other simple part songs as well as call and response. During the session, a few of the men wandered in and out, and a tannoy calling for various detainees went off constantly.
After about half an hour most of the men disappeared for a smoke break. So after a few more (louder) repetitions of Omali more men arrived to join in; this prompted an reprise of the singing name game! Everyone involved got into the swing of things and started to enjoy themselves - even the guards joined in singing. Toward the end of the workshop everyone listened to songs from a couple of the men: an African song and several gospel-based songs too.
Many of the men have beautiful, beautiful singing voices. Even those who weren't sure that 'they could' sing they were encouraged to join in with peer pressure and gentle cajoling from their mates. Percussive instruments were passed around - a small drum, tambourine, shaky egg (always fun) and variations on the theme of maracas; these were used with great enthusiasm - drowning out the singing at points.
The workshop ended at 12.30 but we were asked when we were coming back - hands were shaken, the last few words of solidarity exchanged, and we were back in the entrance hut with the following words from reception:
"You are free to go now"
Six words that we would normally take for granted seem so poignant. And although the detention centre IS grim and although many of the men within face an uncertain future; at least, for today, spirits were high.
What is concerning is that apart from the sessions organised by the students, it seems that detainees get little to no education in Campsfield. The Oxford STAR group have been involved in running creative writing classes on Saturdays.
Future singing sessions will probably occur on Sunday afternoons in the future. Students and non-students are more than welcome to come along and get involved.
For more information and/or to help run future sessions (and also for info on the established creative writing class) please email Mary (marykeniger [at] hotmail.com)
There are also the monthly demonstrations outside Campsfield House at the end of every month, contact the Close Campsfield Campaign for more details:
info [at] closecampsfield.org.uk