The Rev. E. Littlehelps, Lord High Purchaser of the Cult of Consumerism, explains in his own words what happened when a group of activists pretending to be corporation-worshippers descended on Oxford City Centre for International Buy Nothing Day.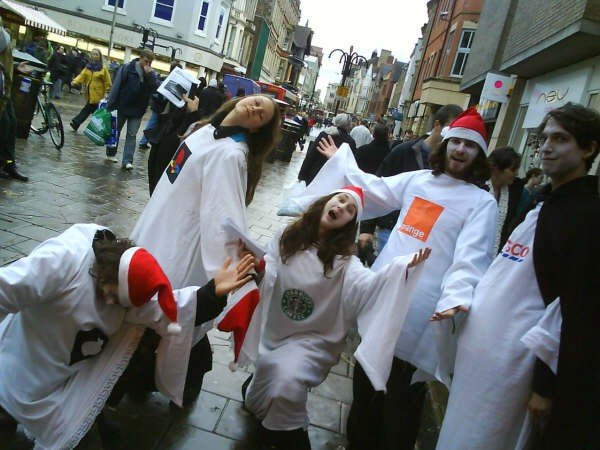 The iPostles warm up for a hard day's worship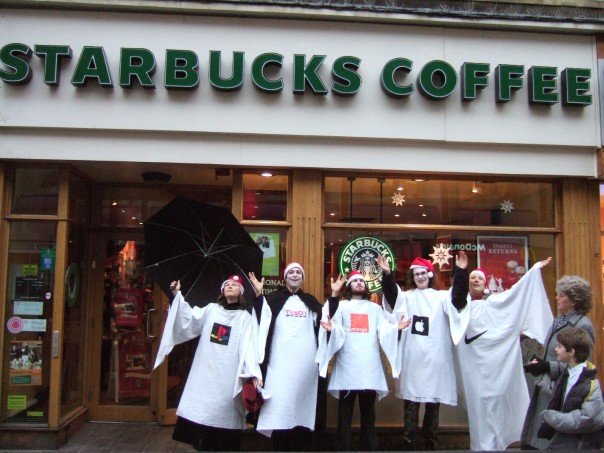 All Hail the Capture of the Coffee Supply Chain!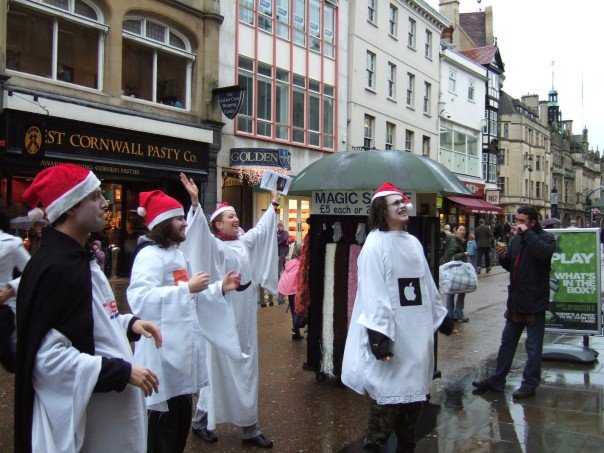 McWorship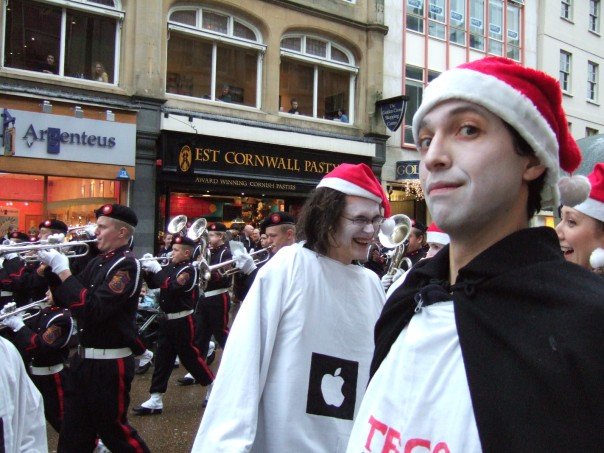 Apostle Macintosh and the Rev, with musical accompaniment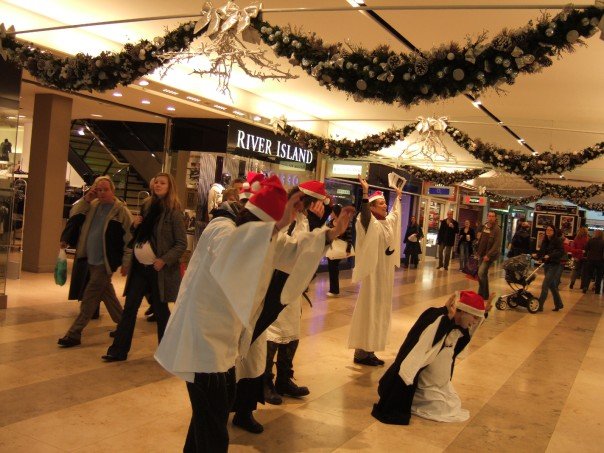 All Hail Stand-By Mode!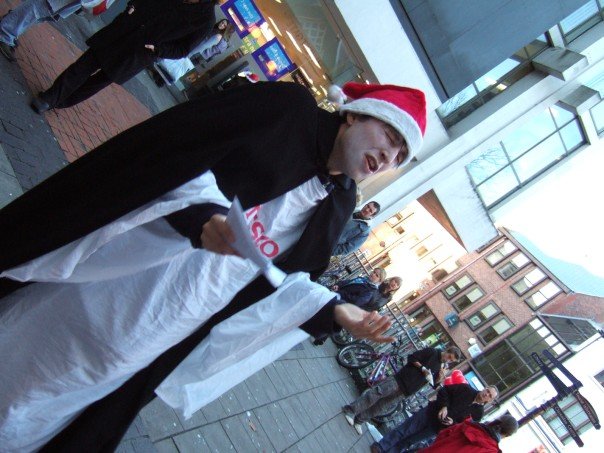 The Rev. E. Littlehelps, mid-sermon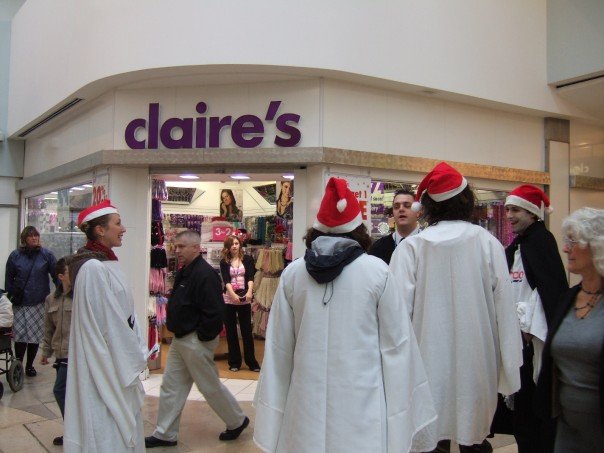 Interrupted in the middle of our Hail Claireys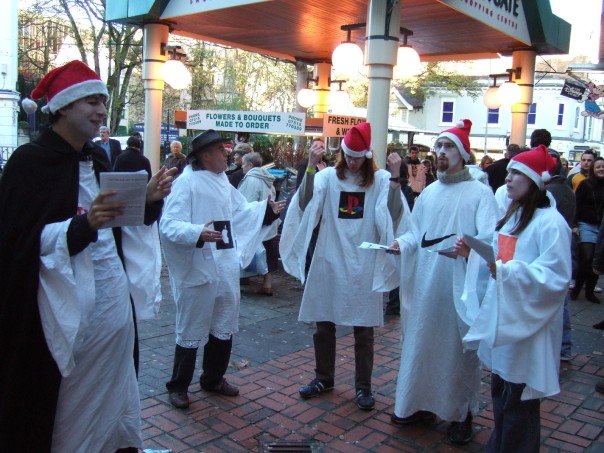 The anti-consumerist chant/rap crossover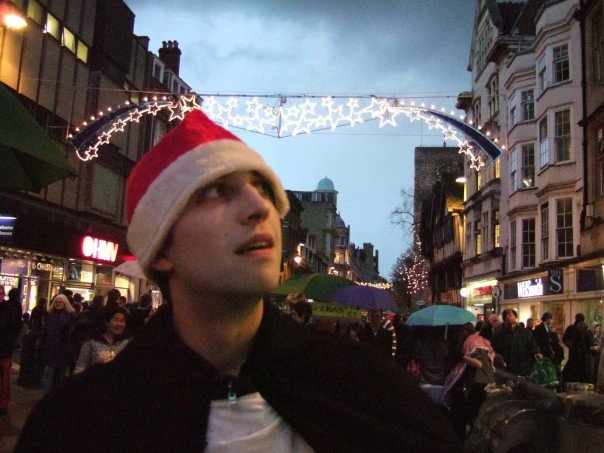 Until next time...
Thought For The (Buy Nothing) Day
By Rev. E. Littlehelps
It was half past ten in the morning, on Saturday November 25th. The skies over Oxford City Centre were grey as I waited outside the Temple of St. Clarendon (known to the uninitiated simply as "The Clarendon Centre"), pulling my robes tightly around me. The morning was chill, but I was filled with a fiery purpose. Today was "Buy Nothing Day", a false festival created by infidels in an attempt to discredit the holy corporate brands; it was our sacred mission to counter their foul sacrilege by preaching the Good Word of The Holy Multinationals to all who would listen. Glorious work, my children. Glorious work.
Some loose-mouthed folk call us the Cult of Consumerism; we know ourselves as the iPostles, and work for the greater good of our wondrous corporate pantheon and all of their noble profits.
As my brothers and sisters assembled around me, my heart soared in anticipation of the great work before us. All five of the Inner Circle were there: Sister Bucks, Preacher Bright, Padre Station, Sister Swoosh and Apostle Macintosh. We began our first incantation ("Shop, Shop, Till You Drop"), to cleanse ourselves of any impure, non-consumer thoughts, and strode boldly out onto the consecrated ground of the Cornmarket pedestrianised shopping precinct.
So many brands, all around us, already glowing neon in the weak morning light! So many small but perfect chapels to consumerism, where even at this hour worshippers were flocking to make their offerings! The rapture was soon upon us, and we began to prostrate ourselves before each gleaming altar, crying our praises to the skies.
Sing praise to McDonalds! We worship you, St Ronald, and your wondrous power, the power to transform rainforests into obese children. All hail Starbucks, and the Sacred Business Model – we marvel at your ability to pay coffee growers 40p for a pound of coffee, keeping them poverty-stricken and fully in your thrall, whilst selling lattes for £4 a cup! All hail Vodafone – we thank you for selling us a new phone every six months when the old one still works, and thus stripping away the planet's resources and fuelling wars over rare minerals, all in your glory! All hail!
Truly, as Apostle Macintosh observed, the profits were speaking through us. And o, most wondrous thing, in front of The Disney Store (all praise the sparkly corporate plastic tat, made by children for children), that same good brother was suddenly filled with the spirit of Mickey Mouse, and began to speak in high-pitched tongues, to our utter delight and wonder!
At Westgate Cathedral we beheld façade upon glorious façade, begging us to consume the whole planet piece by shrink-wrapped piece. We had barely begun our worship outside the Church of Sony ("all hail stand-by mode!"), when one of the guardians of the temple, jealous of any favour we might be winning from our shared corporate deities, escorted us firmly from the premises – but we were undeterred, and showed our defiance with a spontaneous chanting and rapping medley outside the temple gates. Mallelujah!
We threw ourselves as humble supplicants before Gap, singing praise to the enormous gap between the wages of the sweatshop workers and their high street prices. We wept tears of gratitude before the sign of the holy Virgin, thanking St Branson for solving climate change by telling us all to fly more. Outside Argos, we invoked the words of the great theologian Sir William of Bailey, and gave praise to the Laminated Book of Dreams, sheathed in sacred plastic to catch the tears of joy from those who stand in awe before it. Help us, Argos! We need a pink Playboy liquid lamp! A plastic flamingo to sit beside our Golfing Gnomes! My toaster is the wrong colour, Argos – surely you hold the key to my salvation within the Mysterious Dungeon of Plenty?
As the day progressed, many crowds of onlookers gathered around us, drawn by the truth of our words. Many of them seemed strangely gripped by fits of laughter, doubtless overcome by joy at the thought of the blessed corporations pervading every aspect of our lives; others followed us, shouting out suggestions for where we should worship next. Great multitudes beheld our ceremonies, and many hundreds of pamphlets were handed out to the curious congregation. It was only after the event that we realised that a terrible error had occurred, and we had somehow been distributing a blasphemous Buy Nothing Day "Anti-Catalogue", which warned people of the supposed dangers of excessive consumption, and encouraged them to shop less and live more, even going so far as to suggest a number of "fun" and "free" things that people could do instead of consuming.
Despite this dreadful oversight, as dusk fell over the city we decided that our work had been well done, and returned to our individual homelife consumption modules with a sense of deep and blessed satisfaction.
Rest assured, people of Oxford, we shall return in good time to deliver more sacred shopping sermons. Unless, of course, those accursed Corporate Plunder Pirates get there first and steal our thunder.
WTO-approved blessings to you all,
The Rev. E Littlehelps
"And behold the splendour of KFC, and the miraculous buckets of greasy fried gunk. Yea, for the rainforests are an abomination unto the Most Righteous Colonel Saint Sanders, and must be torn down to make way for the bounteous fields of chicken feed, to fatten the birds in the Holy Cages of Wonder. Thus we may all share the glorious bounty of the Family Special Offer Boneless Box. Rejoice!"
For an electronic copy of the Anti-Catalogue, email dannychivers [at] wildmail.com.