Here's another set of old (murky) photos from the first Newbury bypass reunion, held on 11th January 1997, which saw a mass site invasion.
Between one and two thousand people turned up for the 'reunion rampage' which was billed as a commemoration and fence decorating rally. It was a very cold and misty day as people gathered at Newbury train station before marching towards the construction route at Middle Oak.
I remember so many people being shocked at the destruction - for many this was their first visit since the work had started and the months of evictions.
My memory is a little hazy, but at the compound near the Middle Oak people were lining up along the fence. Then suddenly to our right there was a hole - the fence had been cut. About twenty people stormed through followed by a few more, running into the mists, into the murk. I remember looking back expecting to see hundreds, but there was no one. There was a lot of shouting however. Some police had steamed in to try and block the hole. Security were now advancing from out of the mists in front of us, and then there were mounted police coming at the gallop bearing down onto the crowd by the hole in the fence - this was just well over the top, dangerous and provocative.
Those inside the compound were shouting to the others - "come on!". Then another part of the fence started to go - people were literally pulling it apart. More scuffles as police tried to push people back - but soon the tide of people was unstoppable and they streamed into the construction site.
At first security and police tried to push people away from the machinery, there were scuffles and arrests, but in the end all of the machinery were occupied with people sitting and standing ontop of them.
The site was fully occupied for what seemed like ages. A huge tall crane was scaled by several people as the entire site was taken over. The tree at middle oak became an impromptu social centre. People were drumming and sharing food, talking over old times, remembering the beautiful countryside that had been destoryed.
Some went further than others. As time wore on the machinery was getting a pounding. Hydraulic cables were cut and instrument panels smashed. Later as darkness approached the portacabin offices which had been occupied were set alight, as was some of the plant machinery. I remember many a heated discussion taking place, many people disagreed with burning the machinery, but understood the anger that drove people to do it. The Newbury bypass battle had seen endless property damage, with machinery put out of action, sand in fuel tanks, things smashed and so on, but some thought the burning was in a different class. Many were pleased to see it happen, others worried it would look bad in the press. It was a real mix of emotions, many of them raw.
Either way with darkness now replacing the eerie fog light, and bright orange flames licking the night, people soon began to stream away from the site. Job done, in one way or another.
See end for more reports and links.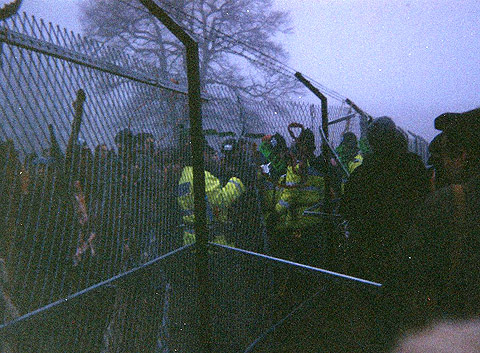 1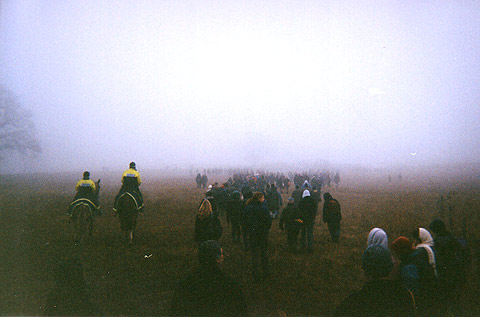 2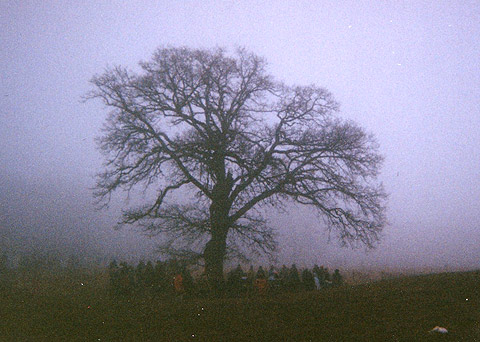 3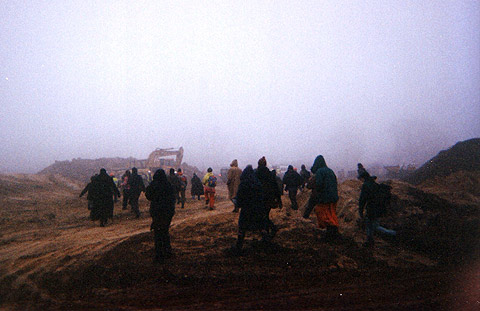 4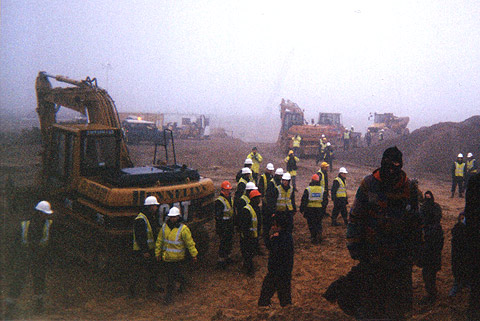 5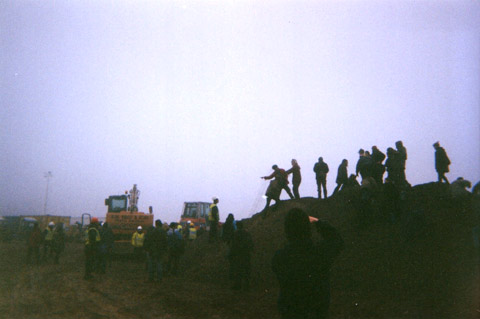 6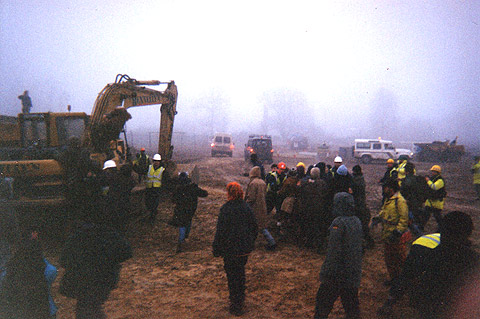 7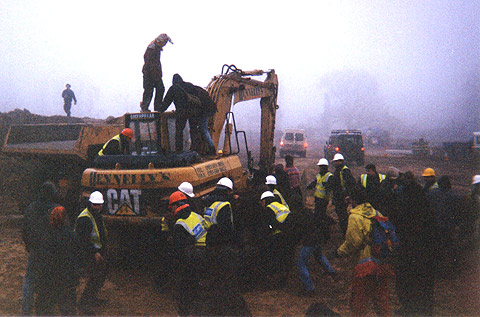 8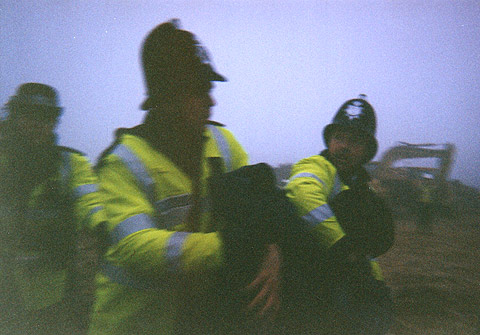 9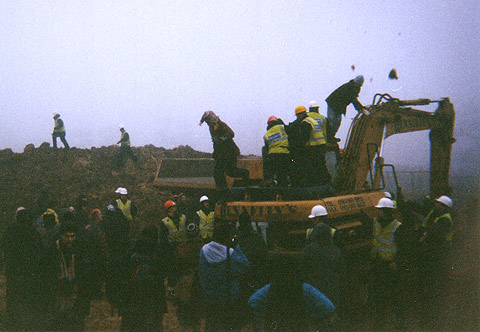 10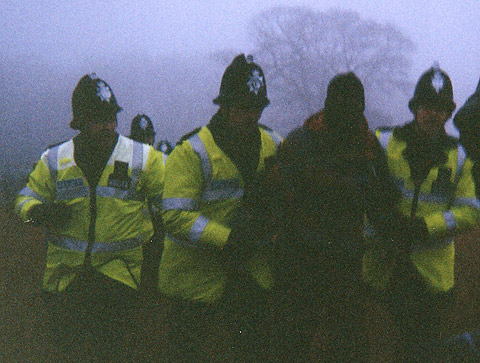 11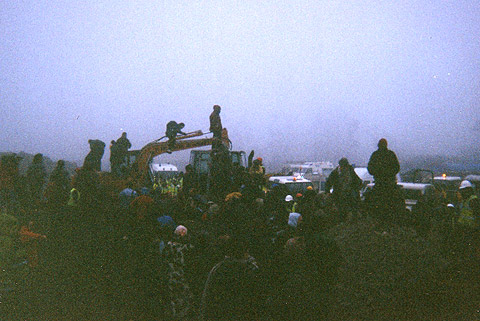 12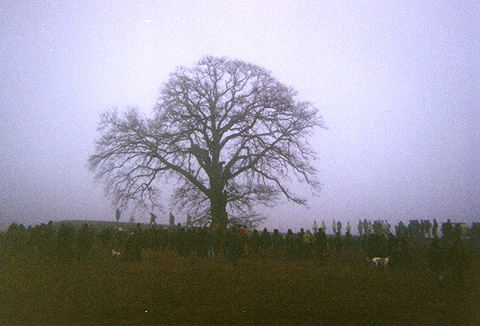 13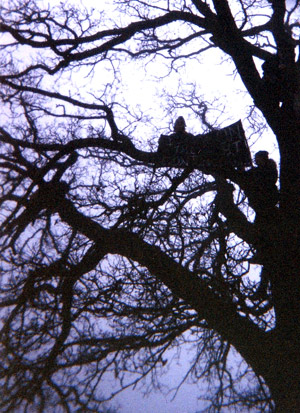 14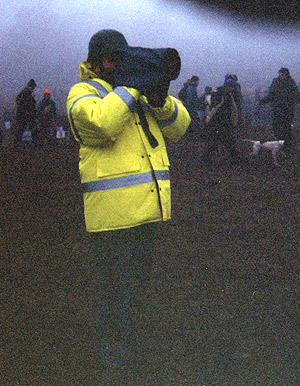 15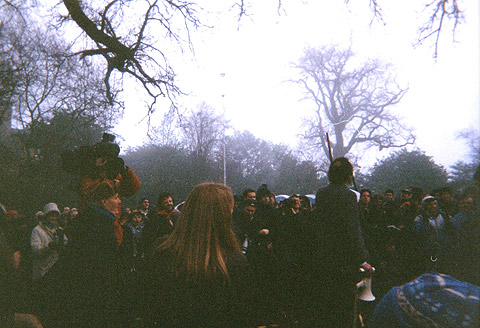 16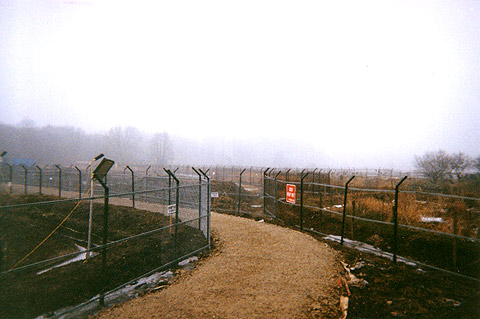 17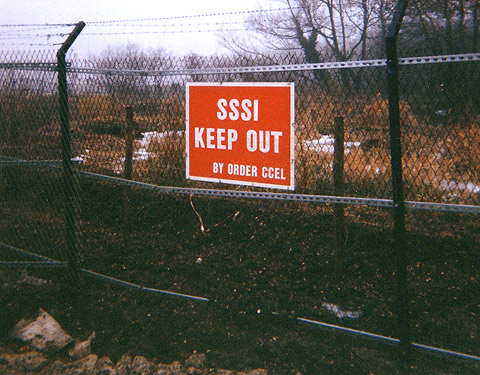 Oh the irony...
More pictures:
3 Pics from Yvette Marie Dostatni
Fence cut / Middle Oak / Flames (in 'carmageddon gallery two')

http://sobs.org/photo/carmageddon/index.html
Six Pics from Charles Sturge:

http://www.charlessturge.com/newbury/main.htm

http://www.charlessturge.com/newbury/images/im_4.jpg

http://www.charlessturge.com/newbury/images/im_5.jpg

http://www.charlessturge.com/newbury/images/im_6.jpg

http://www.charlessturge.com/newbury/images/im_7.jpg

http://www.charlessturge.com/newbury/images/im_8.jpg

http://www.charlessturge.com/newbury/images/im_11.jpg
Tiny pic showing loadsa people + crane occupation:

http://www.antiroads.org.uk/newbury/barby.jpg
------
SchNEWS Reunion Rampage Report:
"What's worse? The temporary end of a bit of replaceable machinery or the permanent end of one of Britain's most beautiful landscapes? They had it coming."

http://schnews.org.uk/archive/news103.htm
Third Battle of Newbury Release: Complaint Against Mounted Police

http://www.antiroads.org.uk/newbury/120297.html
Friends of The Earth Condemn Burning Machinery:

http://www.foe.co.uk/resource/press_releases/19970113150701.html
Third Battle of Newbury Pre-Event Press Release:

http://www.antiroads.org.uk/newbury/100197b.html
Friends of The Earth Pre-Event Press Release:

http://www.foe.co.uk/resource/press_releases/19970108103416.html
Daily Telegraph: £100,000 bill for Newbury melee

http://www.telegraph.co.uk/htmlContent.jhtml;jsessionid=N4HJG0C2WWU0RQFIQMFSFFOAVCBQ0IV0?html=/archive/1997/01/13/nbyp113.html
Newbury Bypass Archive:

http://www.antiroads.org.uk/newbury/factfile.html