A strange thing happened in the town of Carterton today (23/4/05)– a peace march, believed to be the very first ever protest march through the town.
Carterton is host to RAF Brize Norton - Britains main airbase for waging the war and occupation in Iraq. Most of the British Troops that fly out to Iraq do so from Brize Norton as does much of the supplies. Carterton community is heavily dependent on the base for work and thus heavily affected by British war casualties.
The demo explicitly aimed to interact with the people of Carterton: its message "The war/occupation is illegal and immoral - support the troops bring them home."
report
|
report+pics
|
more pics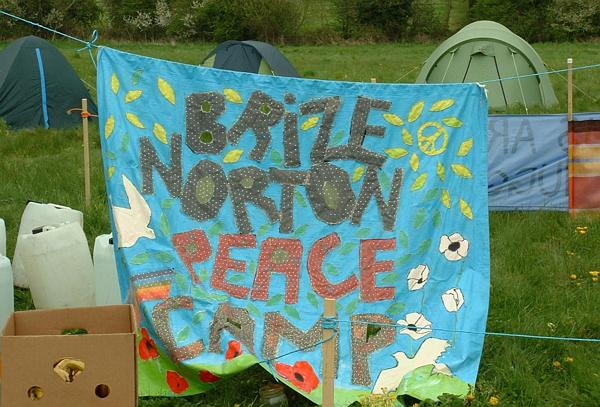 Brize Norton Peace Camp banner
There were around a hundred marchers on Saturday, including one coachload from Oxford and one from Bristol. People came from as far afield as Wrexham, bringing a variety of colourful banners as well as vital supplies of chocolate bunnies, flapjacks and hot soup. Music was provided by the Oxford samba group Breach of the Peace, and the Bristol-based singing group Red Notes with a little additional assistance from some of Oxford's Sea Green Singers. There was a grotesquely-excessive police presence, including a number of mounted police. The main street of Carterton was crowded with people, who had apparently never seen anything like it before. An unusual feature was how many of the local kids decided to come along with us on the march despite the rain, and stayed on pretty much throughout the day's events. Some local girls joined the Samba band and later that night local kids came to visit the peace camp. Presumably because of the novelty rather than any deep commitment, though it would be interesting to know if their experience had any lasting influence on them.
Some background:
It has been very noticeable over the last years how many more planes are flying in and out of Brize Norton in support of our attack on and then occupation of Iraq but these are two other aspects of the base's role;.
RAF Brize Norton – the Torture Connection
01/03/05 US 'torture jet' flies from UK By Andrew Gilligan, Evening Standard An aircraft used by the CIA to illegally abduct terrorist suspects has frequently operated from two British RAF bases. The Gulfstream jet has flown from RAF Brize Norton in Oxfordshire at least twice and RAF Northolt at least six times since October 2002, according to Chris Yates, aviation security editor for the authoritative Jane's Information Group.
Mr Yates and opposition MPs say there is "no way" that the purpose of the flights could have been un known to the British authorities. "There is absolutely no doubt about the accuracy of the data," said Mr Yates. "What it tells me is that the UK government is probably complicit in what was going on in terms of the disappearance of people."
The movements of the Gulfstream have been tracked for a Channel 4 documentary on "extraordinary rendition", where US snatch squads seize alleged terrorists and fly them to countries where they are tortured for information.
Human rights activists say this is a way round the bans on torture in place in the West, and is illegal under international law. The Ministry of Defence was unable to say what the jet was doing at the two RAF bases.
RAF Brize Norton – the Nuclear Connection
Nuclear materials and Nuclear Bombs, in armed military convoys, are regularly on the move on Britain's roads to and from AWE Aldermaston and AWE Burghfield in Berkshire. These include Trident warheads travelling to and from Faslane in Scotland, fuel plates to Derby, and nuclear materials to Harwell in Oxfordshire, and Sellafield. From time to time, as part of the nuclear weapons program materials are flown to and from America. These are taken by road from Aldermaston & Burghfield to RAF Brize Norton and loaded onto VC10 planes.
Source: Nukewatch on www.cndyorks.gn.apc.org/nukewatch_infosheets_final.pdf
Information obtained on the period between 1 January 1993 and 22 August 1999 revealed 15 such flights into Britain and 32 flights from Britain.
There are two alternative routes used by the nuclear flights. The first takes the plane in a straight line from Brize Norton over the Cotswolds, then over the northern edges of Bristol and Cardiff to reach the Bristol Channel. The second route takes the plane further to the north where it overflies Cirencester, Chepstow then travels through South Wales, the edge of Newport, Caerphilly and Port Talbot.
The exact nature of each cargo remains shrouded in secrecy. However it is clear that they contain radioactive material and are destined for use in nuclear weapons. Information obtained by CND under the US Freedom of Information Act indicates they are likely to include either plutonium and/or highly enriched uranium along with components such as nuclear warhead triggers.
Dave Knight of CND said "The likelihood of any type of container withstanding a plane crash is minimal. The radioactive materials being carried is likely to be highly inflammable and spreads through the air quickly, it is also highly carcinogenic. It is clearly insane to fly over large centres of population carrying any radioactive material. It is simply not worth the risk.
Source: http://www.cnduk.org/press2/press5.htm
Pictures of Nuclear Convoys are available at http://cndyorks.gn.apc.org/Ynconv.htm