Mark has been a local sweetie and a well none "climate criminal" amongst the East Oxford activist seen... now his book is out do we all stop taking the mickey out of his globe trotting research? (:
Some one should write a book review for Indymedia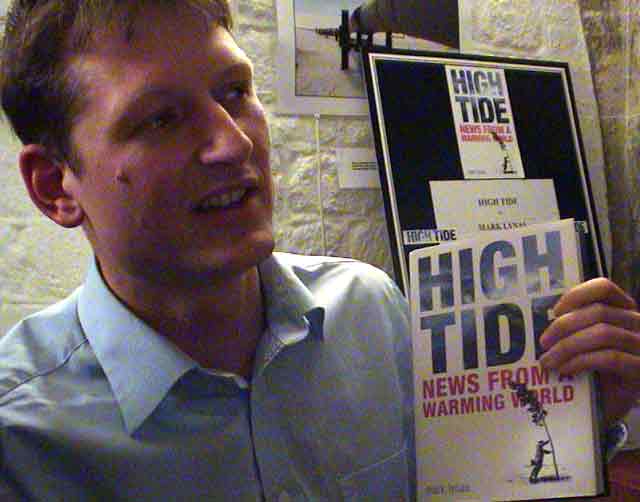 Mark at the Oxford launch
HOW CLIMATE CRISIS IS ALREADY ENGULFING OUR PLANET
A glacier disappears high in the Peruvian Andes. Floodwaters surge across the English countryside. Ten thousand Pacific islanders begin to evacuate their homeland. A duststorm turns day into night across the Inner Mongolian plains.
To many people these events might seem unrelated. But they're not. Even as scientists and other experts continue to debate the specifics, climate crisis has crept up almost unnoticed on Planet Earth.
In this ground-breaking book, author Mark Lynas reveals the first evidence - painstakingly collected over three years of travelling to far-flung corners of the globe - of how global warming is hitting people's lives, not in the future, but in our world today.
High Tide tells the first-hand stories of Alaskan Eskimos, South Sea islanders, Chinese sheep-herders and British flood victims who already know too much about the grim realities of climate change. And in the process, Lynas gives us a stark warning about the dangers that lie ahead if nothing is done.
As catastrophe beckons, nobody who reads this book will be able to look back and say 'I didn't know'.