January 24, 2008 - Canada
BILLBOARD SUBVERTED
January 25, 2008 - UK
VEHICLES TRASHED AT OXFORD UNI SUPPLIER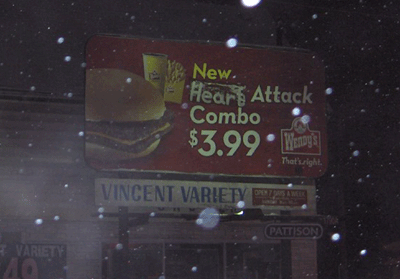 New Heart Attack Combo!
CANADA: BILLBOARD SUBVERTED
picture (see above)
anonymous report:
"a Wendy's restaurant advertisement for their new stack attack mega-burger in London, Ontario was subverted by activists Jan. 22nd 2008"
===
UK: VEHICLES TRASHED AT OXFORD UNI SUPPLIER
received anonymously:
"On the 19th of January we visited R.M. Couriers (Weylands, Ladder Hill, Wheatley, OX33 1HY. Tel 01865 874524). R.M. Do alot of business with Oxford Uni. We popped the tyres, paintstripped, glued the locks and painted ALF on three vans and a car.
If you have a contract with the uni (if you've worked for them recently or not) you need to terminate it now and let the world know as soon as possible. If you don't there's a very good chance we will see u soon.
The fact that the uni have nearly finished building their lab only makes us more determined-- we will go on as long as it takes.
Love and Liberation
ALF"
Previous Oxford Uni Actions

http://www.directaction.info/news_dec08b_07.htm

http://www.directaction.info/news_nov31_07.htm

http://www.directaction.info/news_nov09_07.htm
===
www.animalliberationfront.com
WHO & WHAT IS THE ALF?

http://www.youtube.com/watch?v=8WTSUGetKFc
JANUARY 2008 REPORTS
UK

https://www.indymedia.org.uk/en/2008/01/390171.html
(McD & hunt cars)

https://www.indymedia.org.uk/en/2008/01/389522.html
(HLS associates)

https://www.indymedia.org.uk/en/2008/01/389069.html
(Lab breeder raided)

https://www.indymedia.org.uk/en/2008/01/389024.html
(Chicken saved)
USA

https://www..indymedia.org.uk/en/2008/01/389717.html
(LA Animal Shelter)
Holland

https://www.indymedia.org.uk/en/2008/01/389020.html
(Lab halted)
Global Reports

https://www.indymedia.org.uk/en/2008/01/389972.html
(23/01)

https://www.indymedia.org.uk/en/2008/01/389888.html
(22/01)

https://www.indymedia.org.uk/en/2008/01/389674.html
(18/01)

https://www.indymedia.org.uk/en/2008/01/389477.html
(15/01)

https://www.indymedia.org.uk/en/2008/01/389204.html
(11/01)

https://www.indymedia.org.uk/en/2008/01/389008.html
(08/01)

https://www.indymedia.org.uk/en/2008/01/388765.html
(03/01)

https://www.indymedia.org.uk/en/2008/01/388669.html
(01/01)