Update (31/05/06)
:
The eviction took place today
. A large number of cops and bailiffs swamped the site at around 6am. They later brought a crane in to move boats back into the water, and started work on a fence along the waterfront. Some people managed to hold things up by climbing on rooftops, or getting in the way of the craning of the boats, and at least 2 people were arrested. [
photos
]
Update (15/05/06)
: A small group of bailiffs came and photographed the perimeter of the site around lunchtime today.
Boaters occupying
Castle Mill boatyard in Jericho
are facing an eviction sometime in the next three weeks, with a
first visit from the bailiffs expected this Monday
(15th May).
The yard, an indispensable facility for Oxford's narrowboat community, has been
occupied since July last year
to block British Waterways' attempt to sell the site on to property developers. The emphasis has been on keeping the site going as a working boatyard, and
8 boats have now been craned onto the yard for essential repairs and maintainence
, something that no other yard in the area can do.
Despite boaters raising huge public support,
defeating the original plan by Bellway Homes
to build housing on the site, getting the city council to pass a motion of support and pointing out British Waterways' obligation in law to provide vital services for Oxford's residential boaters, the eviction and development plans are still ploughing on with a mindless momentum of their own, probably fuelled by Oxford's high property prices.
If you would be able to help out in the event of an eviction, join the phone tree by texting your number to the site mobile (07788 915545), emailing boatyardeviction@yahoo.co.uk or ringing the site office (01865 559481). Or get down to the boatyard in person!
[
latest report
|
Campaign Website
|
Other ways to help
]
[ old reports:
Bellway plan defeated
|
Boatyard occupied
]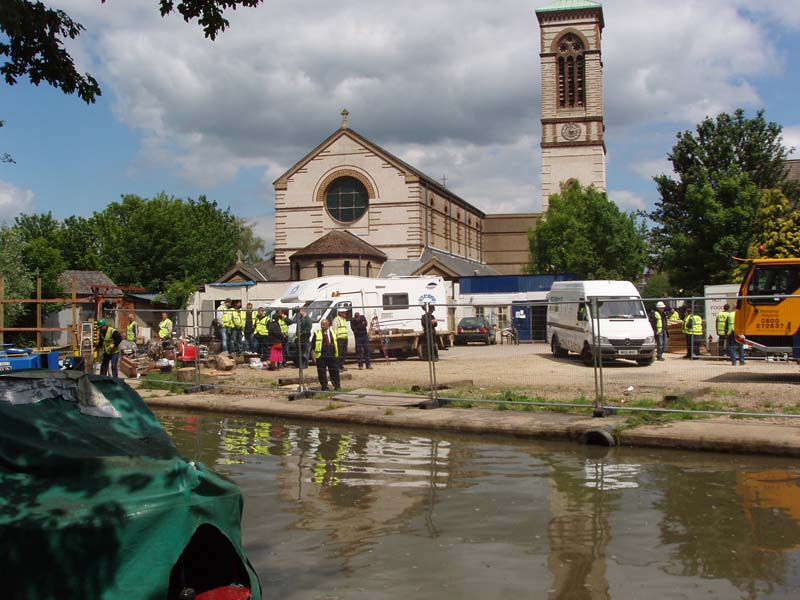 Boatyard itself pretty much secured